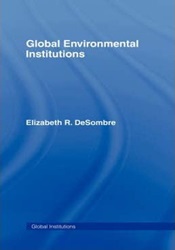 Title : Global environmental Institutions
Author : Elizabeth R. DeSombre
Publisher : Routledge
There has been a concurrent growth in interest in the institutions that deal with global environmental issues. A vast number of international organizations address these matters; this volume provides an overview of the major global institutions attempting to protect the natural environment. It first considers the United Nations Environment Programme and the other entities within the United Nations that play important roles in global environmental governance. It then examines institutions clustered by issue area, introducing institutions that focus on protecting endangered species and biodiversity, those that govern the ocean environment, those focusing on the atmosphere, and a recent set of institutions that regulate the transboundary movement of hazardous substances. It concludes with current debates on financing international environmental action, gaining widespread participation by states, and the question of whether the institutional structure of global environmental governance can, and should, be fundamentally reformed. The volume as a whole focuses on:
the underlying causes of global environmental problems

the creation of global environmental institutions

the effectiveness of action undertaken by these institutions.
Written by an acknowledged expert in the field, Global Environmental Institutions is essential reading for students of environmental politics and international organizations.