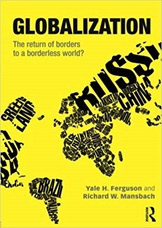 Title : Globalization : The Return of Borders to a Borderless World?
Author : Yale H. Ferguson and Richard W. Mansbach
Publisher : Routledge
Written by two leading scholars of global politics, Globalization: the return of borders to a borderless world? is a major new book for students of globalization. It describes and explains globalization and its origins, and examines its future in light of key recent political and global trends and events.
The text:
identifies the different political, economic, technological, and cultural meanings of globalization
examines its historical origins from the ancient past through the Cold War and into the twenty-first century
describes the multiple attributes and consequences of globalization including its effect on the sovereignty of the nation state
discusses recent trends such as the increased use of social media and events like the Arab Spring
assesses the normative implications of globalization
analyzes the challenges to globalization posed by contemporary events such as the global financial crisis.
This book will be essential reading for all students of globalization, and will be of great interest to students of global politics and global governance.