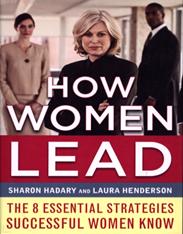 Title: How Women Lead: The 8 Essential Strategies Successful Women Know
Author: Sharon Hadary and Laura Henderson
Publisher: McGraw Hill
Year: 2012
Women are moving into leadership roles in business, government, and the military, and they're gaining positions of increasing stature and higher salaries. But women's upward movement is not matching the rate of their movement into professional and managerial positions.
It is time to own your destiny. Gain the confidence and know-how you need to navigate it all. Your roadmap to achieving your aspirations, How Women Lead provides hard-won wisdom from women who have reached truly impressive heights in their careers.
Written by two women's leadership experts who are themselves successful leaders, How Women Lead gives women the information they need to become high-potential leaders but don't get in business school: how to build a career on their own terms, gain the critical business management skills needed to advance, and advocate successfully for themselves.