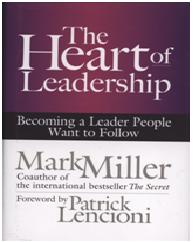 Title: The Heart of Leadership: Becoming a Leader People Want to Follow
Author: Mark Miller
Publisher: Berrett-Koehler Publishers, Inc.
Year:2013
Are you the type of leader people want to follow? You can be—but first, you've got to understand what sets great leaders apart from all the rest.

Certainly, leaders need people skills, execution skills, a deep knowledge of industry trends, the ability to articulate a vision, and more—they must be competent—but that's just the tip of the iceberg. What's below the waterline? What's deep inside the best leaders that makes them different?

Mark Miller contends it is their leadership character. In his latest enlightening and entertaining business fable, he describes the five unique character traits exhibited by exceptional leaders and how to cultivate them.